Home Page
LX-22
Raptor
Lanxiang, Sky Flight Hobby
ARF (Airframe Kit Only)
Click to view larger images.


The Kit arrives in a carboard box.
Contents :
1x LX-22 Raptor foam jet airframe
1x Instructions: 935grams; 6CH-8CH, 4-5 Blade, 2750Kv, 2200Mha, 14v
1x Landing gear (metal & plastic)
1x 70mm EDF unit
1x Decals
#1 : Added rudders and servos to rudder parts. Made push rods and connected rudders control horn to servo horn.
#2 : Added carbon rod to strengthen all metal parts, except nose gear. Held in place with black heat-shrink.

#3 : Epoxy and Fiberglass 6 magnets around cockpit bay. Epoxy rest of fuselage.
#4 : Added full and half metal washers to canopy; Added painted black wooden skewers.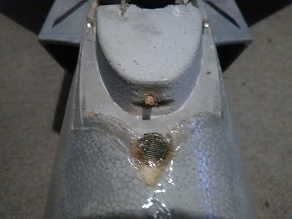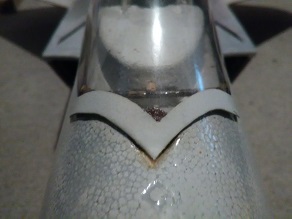 #5 : Added wooden pole to hold cockpit canopy in place.
#6 : Attached platic canopy cover to cockpit bay.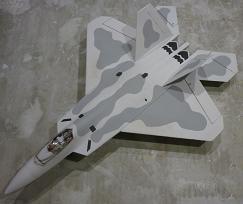 ---
Parts Shopping List
LX-22 ARF Kit (Australia) : Skyflighthobby.com, lxhm.us, Information link
TX/RX, 6 Channel : lxhm.us, EBay.com.au (FS-CT6B) | HobbyKing.com (HK-T6Av2) , HobbyKing.com (HK6S)
SG90 Servo, x7 : EBay.com.au (SG90), Information link
Areo 85Amp ESC : Information link
cs480 3300kv 1000watts 4s : Information link
Freewing 10 blade : Information link
Epoxy : Information link
Turnigy Nano-tech 2250Mha 14v 65C-130C : Hobbyking.com, Information link
Turnigy 12AWG extension cable : Information link
Servo signal reverse : Information link
Plastic Control Horns : EBay.com.au
Plastic Clevis : EBay.com.au
Metal push rods : EBay.com.au
Nylon Hinges 16mm x 27mm : EBay.com.au
Magnets 5mm dia x 2mm depth : EBay.com.au
Fiberglass Cloth : Information link
Glue, lots of glue : EBay.com.au | HobbyKing.com (thin), HobbyKing.com, and your local RC hobbyshop
Clear sticky tape, Contact protective plastic film (clear) if not using glass fiber and epoxy, Thin 3mm Bamboo 25cm long Skewers if not using 3mm flat carbon fiber rods: your local supermarket

The list above can be changed, at time of purchace the cheapest was selected. Some items were purchaced with other items not listed here, this was done to lower the shipping costs where possible. All posted items were from Japan, China and Australia. Free shipping Auctions are first preferance during item slection. Postage waiting times of posted items ranged from 2 days to 4 weeks.
Flight location, and Radio
1000m above sea level.
Air temp -5C to 35C.
Wind-speeds 0 to 5km.
Actual total flying weight 1000g.
Wing span 850mm.
Aircraft Length 1230mm.
6ch Radio with 3ch mixing.