Home Page
F22 - with Solar cells, and FrSky DJT 5ch micro rx
ARF KIT
Modified version; The Solar powered F22 Raptor
Click to view larger images.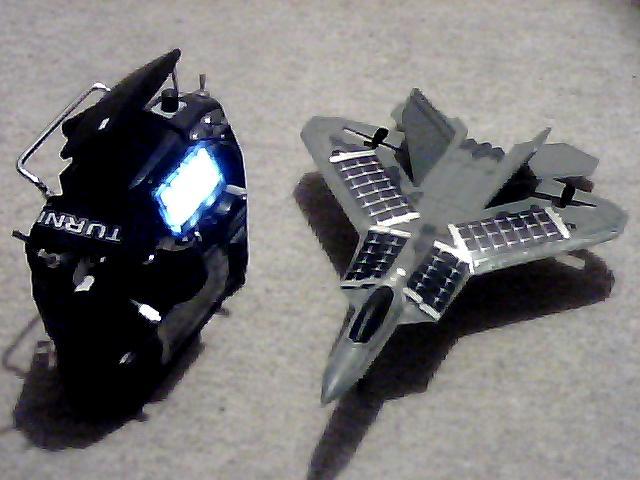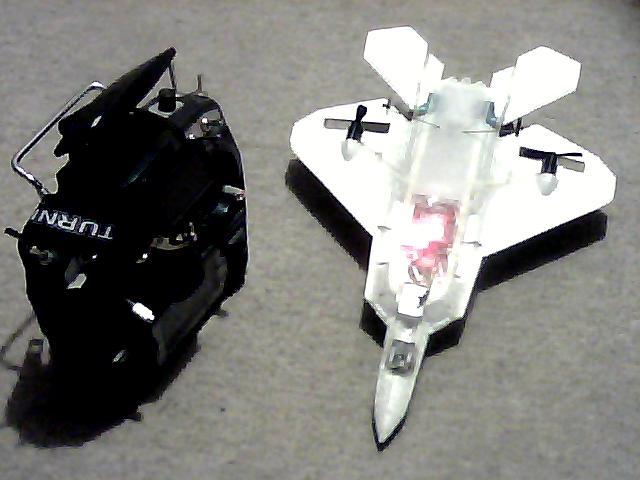 Each Brushed 6 volt capable fan wing motor is powered from a 3.7g plasic Mini Micro Servo's Brushed ESC circut.

Added two 3.7g plasic Mini Micro Servo's with plastic case removed; For tail Elevators which pivit on a pins.

The Solar cells provide 6 volt at 24mA, and 4.2 volt at 44mA - solar powered current is directly transfered to the power terminals that power the plane.

Battery has been upgraded to be TWO x 3.7 volt x 130/200mah 20c lipo with an SMD microcontroler voltage protection circut (Max Chrage of 8.39 Volts).
Parts Shopping List
SilverLit F22 PNF Aircraft : See SilverLit F22 Raptor
FrSky DV5M micro reciver (Telemetry capable) : Hobbyking.com
FrSky FLD Telemtery Display Screen : Hobbyking.com
FrSky 2.4Ghz 7db Antenna : Hobbyking.com
FrSky 2.4Ghz DJT for JR with telemtery : Hobbyking.com
Trunigy 9x (v2) transmitter : Hobbyking.com
4 Mystery 3.7g Mini Micro Servos : Hobbyking.com | EBay.com.au
4 PowerFilm SP3-12 Flexible Solar Cell Panel 3v 12mA : EBay.com.au
3 PowerFilm SP4.2-37 Flexible Solar Cell Panel 4.2v 22mA : EBay.com.au
Glue : EBay.com.au | HobbyKing.com (thin), HobbyKing.com, and your local RC hobbyshop
Clear sticky tape, craft paper, dess making pins (30-40mm) : your local supermarket

The list above can be changed, at time of purchace the cheapest was selected. Some items were purchaced with other items not listed here, this was done to lower the shipping costs where possible. All posted items were from Japan, China and Australia. Free shipping Auctions and local retail or pickup are first preferance during item slection. Postage waiting times of posted items ranged from 2 days to 4 weeks.
Flight location, and Radio
1000m above sea level.
Air temp 15C to 30C.
Wind-speeds 0km / large indoor area.
Actual total flying weight 50g.
Wing span 254mm.
Aircraft Length 360mm.
GC from front edge of main wing 39mm.
GC from nose 200mm.
5ch Radio Reciver 300ft range.